Six Flags Great America is in the process of getting ready for their 2018 Announcement (along with the other Six Flags Parks) on August 31st. To prepare for their new attraction, King Chaos (top spin) will be removed. The park announced earlier this evening that the last day to ride it will be this Sunday (August 27th).
Here is what the area around King Chaos currently looks like: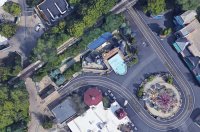 My first thought for a replacement was a Larson Loop. It makes sense since it's one of the few that doesn't have one and could easily be themed to the Mardi Gras area.
However, another attraction came to mind that hasn't shown up anywhere yet. Ride Entertainment's Skywarp. I checked the measurement of King Chao's space, including queue, and there would be plenty of room to put in a Skywarp which is 120' by 30' according to the ride specs.
Skywarp - Ride Entertainment