This is obviously the most important topic of all time
:
Is Universal ever going to update their gift bags?!?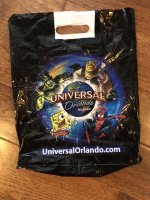 As most of us know, the logo for USO was updated in 2016 to better match the movie studios 2012 logo. Slowly we have seen the logo updated throughout the resort(Park Maps, T-Shirts, Resort Signs, Website, etc). Yet, the bags retain the same logo. To me this implies that Universal has some apocalyptic vault filled with thousands or maybe even millions of bags! The bag also screams early 2000's, it features characters who are now less prominent at the park, even though they still have a presence.
Over on the west coast, USH's bags have a better reflection of the parks modern offerings, including the updated logo:
Orlando's west coast sibling clearly has us beat when it comes to baggage!(Don't get it wrong, I love USH haha)
So how do y'all feel? Is it time for USO to update their bags? Should they remain the same until the end of time? Does this pandemic have me bored out of my mind or am I just crazy? Is this the most unnecessary post in the history of OU/IU?
You decide. I bid you adieu.
P.S. If you made it this far, thank you for reading. You win a fun fact! Spongebob fans rejoice, creator Stephen Hillenburg's name is written on the fine print of every USO gift bag. That man had a huge impact on the world of animation and he is certainly missed.