From 2000-2009, Universal Studios Hollywood suffered from a mish mash of strange and confusing additions to the park. Many attractions were forced into the parks with no real staying power and the people seemed to notice and stay away. I remember getting a free annual pass in the mail in the mid-2000's and so did many of my friends, how bad could it get for the park to give away free AP's? Anyways, by 2009 the park had suffered and it showed but by 2010 things began to turn around and began it's journey back to prominence.

2010

: King Kong 360

The Studio Tour addition was one of the most highly anticipated additions in a while and lived up to the hype. It garnered rave reviews and brought the public back to the small studio park.
The
Special Effects Stage
relocated to the Castle Theater in preparation for the newly announced Transformers Ride.
2011
Another update to the Studio Tour came in the form of a new tram host, the newly appointed late night host Jimmy Fallon joined the tour.
2012
Transformers The Ride-3D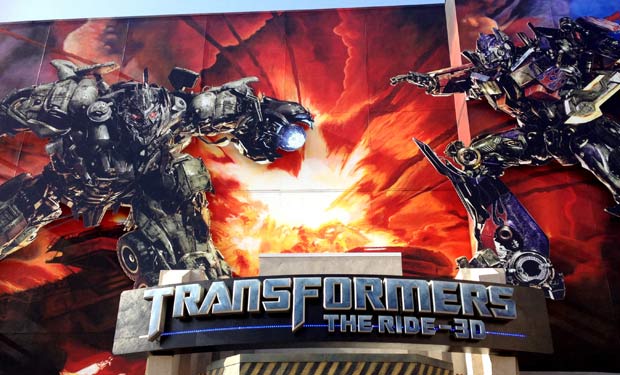 This ride was defintely a game changer for the park and has been a fan favorite since it's debut. Using the same technology as Spider-Man by integrating screens and physical sets, Transfomers was an overwhelming success.
The Lower Lot now had three thrill rides and nothing to do for small children so because if this
Dino Play
was added.
2013
Universal Plaza


This year saw the first time the park began to make aesthetic changes by adding Universal Plaza as part of the 5 year plan the to fix the park
2014
Despicable Me: Minion Mayhem

Super Silly Fun Land
Minion Mayhem and Super Silly Fun Land brought more much needed family entertainment to the park.
2015

Springfield


Springfield was another popular addition to the park, making the park as a whole a little more cohesive and complimenting The Simpsons ride as well.
Studio Tour 50th Anniversary


The 50th anniversary brought the NightTime Studio Tour as well a new entrance, new trams, new queue elements and......

Supercharged


Raptor Encounter


Raptor encounter also debuted this year and has become one of the most popular character experiences at the park.
2016

The Wizarding World of Harry Potter


This was the crown gem of Universal's Five Year Plan and really made its mark on the overall quality of USH, it is the most expensive addition to park in it's lifetime.
Universal Boulevard


Universal Boulevard made for a more immersive entrance, bringing classic Hollywood to life and further adding to making the park a more beautiful place.
New Special Effects Stage Show


The show got a great update with more action packed sequences and more intense special effects.

From Coraline to Kubo: A Magical Laika Experience


Although it only made a limited engagement twice, this small behind the scenes look at Laika's films was made with a lot of love.

2017

Nighttime Lights at Hogwarts Castle


USH finally added some nighttime magic by using projection mapping and minimal fireworks and offered the first of many different iterations to come. One being shown that holiday season with a Christmas version as well as getting Hogwarts into the spirit for the first time.

Also, Harry Potter and the Forbidden Journey is shown in 4K.
2018

Dreamworks Theater


A superb addition to Universal, done with quality and love, very high tech with amazing effects and aesthetically beautiful, a welcome addition to the growing beauty of the park.

Animation Studio Store


More quality driven architecture is built to further compliment Universal Boulevard.
Wizarding World Interactive Wands


A very fun addition that has taken interactivity in the park to a whole other level.
2019
Jurassic World The Ride


Jurassic Park gets an elaborate update making for an exciting adventure.
Jurassic World also brings a mini land with it including an updated Raptor Encounter, expanded Dino Play and theming.

Dark Arts Show


T
he third iteration of the Hogwarts Nighttime show debuts using drone technology, the likes of which many fans have never seen at a theme park.

In closing

USH has came a long way in the past decade, a feat that will hopefully continue throughout this new decade and surely Secret Life of Pets: Off the Leash! and Nintendo World will gets things started off with a bang.
Last edited by a moderator: