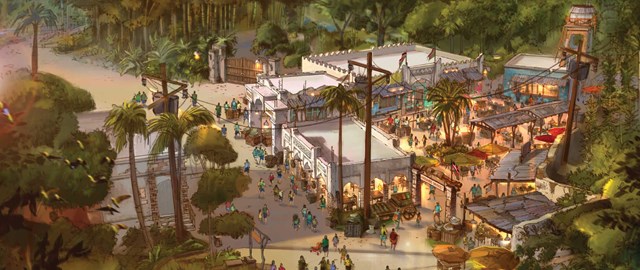 This has been something under construction for a good while now that not many have talked about, but now there's finally official concept art for it. It's planned to open for Spring 2015 and According to the Magical site:
The new area, called Africa Marketplace will open in Spring 2015, including new merchandise locations, a new quick service restaurant, and a new walkway linking Africa to Asia. Combined with the new Harambe Theater district area, the new additions will more than double the size of Africa.

The restaurant will be called Harambe Marketplace, and will feature a number of walkup windows, offering a variety of African inspired dishes.

The new area and restaurant is planned to open in Spring 2015, and will be located between the Kilimanjaro Safari area and Mombassa Marketplace, in an area that was previously backstage.
Apparently there is also a new Table Service restaurant being built in Discovery Island. I love all the expansion/attention that DAK is receiving at the moment.