After taking another look at Bio's recent (fantastic) pics of USH, the one below really stuck out for me.
It truly shows how much space is currently earmarked for theme park expansion. Essentially the LL will almost double in size once they finish.
I'm curious if they will eventually cut into the hillside like they did for the Jurassic Park show building, anyone know if they can do that?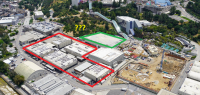 Red - earmarked soundstage removal for theme park expansion
Green - ROM
Yellow - hill side they could utilise?