So to take my mind off of the current events I started playing Pikmin 3, and playing that reminded me that there are Pikmin hidden inside the land. So far I've spotted the one that was already found near toad's cade, but I found some new ones too.
Also sidenote, the render they're using for Mario is a fan's which is ironic considering Nintendo and its relationship with the fans.
Edit: Even the interactive website has the Pikmin on the entrance to Yoshi.
.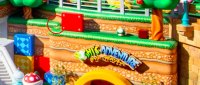 Last edited: