seeing as the company likes to buy rides in bulk I could imagine a Sally dark ride for Jungala in the unused land surrounding Treetop Trails.
That isn't unused land. It's pasture for some of the animals that are kept away from the Serengeti.
In light of the Epic Universe announcement, one thing that BGT seriously needs is an official onsite resort. A quick look at TripAdvisor reveals that a large portion of guests are tourists from out of town who are making a one-day detour from their week long Orlando vacation, and as it is a fair number of them are advising others to skip Busch Gardens altogether in favor of the Orlando parks. With another park in Orlando, Busch Gardens is going to have to sell itself as a multi-day destination to convince people to spend any time in Tampa, and with no clearly designated place to stay overnight that's going to be a tough sell. It's strange to me that this park, which is the oldest in the state and arguably has the best business case for its own hotel, is the only one in Florida not to have an official or even "partner" hotel, or even an abundance of nearby hotels excluding the not-so-savory properties on Busch Blvd.
A resort (or resorts) has been in the work for years (areas in yellow as potential locations for it). However due to massive budget cuts/financial issues, those have been shelved indefinitely.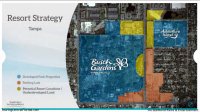 BGT has partner hotels that you can book with through the park's website and get deals and some benefits. However they don't come with some of the perks you get at the SWO official hotels (specifically QQ).
Florida's Best Family Vacation Package Deals | Busch Gardens Tampa Bay