Quick show of hands… who remembers the initial reaction to AoV getting announced for 26?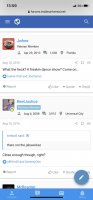 AoV ended up getting higher GSats than ANY Bill and Ted. Ever.
I bring that up for two reasons:
1) AoV controversy aside, Universal has proven they "know how to pick'em" when it comes to 3rd party shows.
2) Personal opinion, based on what I've seen of the rumored act, this could be—unequivocally—the best act they've brought in for HHN.